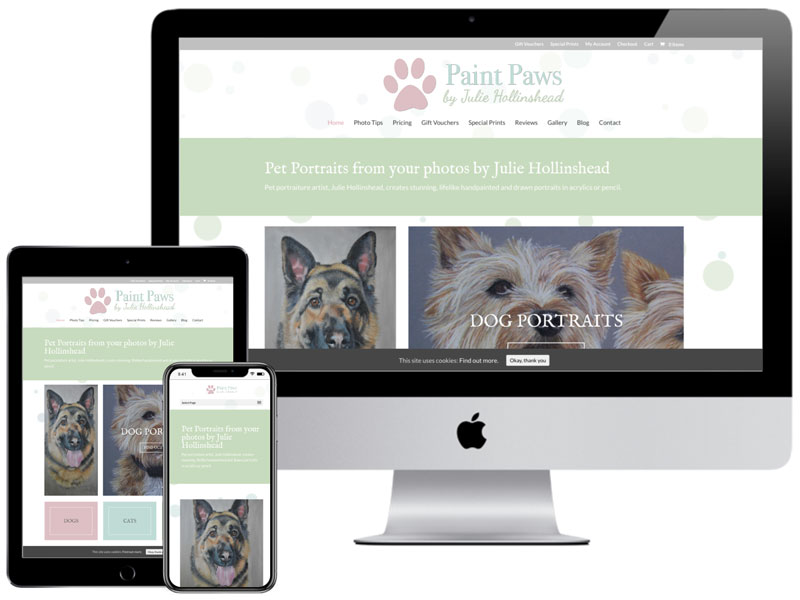 A way to get your first business website online with a simple, monthly payment and no deposit.
Fixed, monthly fee – you always know where you are.
No high initial outlay
Includes our Monthly Website Care Plan
You own the website outright after 24 months.
3rd year onwards, costs are hugely reduced as you're only paying for our Care Plan.
How we work with you to get your business online:
Initial Meeting– let's discuss your plans for your new business.
Keyword Research– What actual keywords and phrases to people use to search Google for businesses like yours?
Domain Name– we get you a .co.uk domain name for your business.
Website– A WordPress website developed by working with you.
Hosting– Super fast web hosting for your new website and business email.
Care Plan– System Updates, Optimisation, Monitoring & Protection plus Backups done for you. Along with a monthly report, so you know how well your website is doing.
Content Updates– from 30 mins image and text updates per month.
SSL Certificate– That little padlock on Google Chrome and Safari to show clients your website is safe.
Terms and conditions apply and can be read here https://www.webseoassist.co.uk/terms-of-business-leased-sites/
A website built within a month (often quicker).
Website leasing from £85 per month(no VAT).
There are no extra fees for an email account or SSL certificate.
Just because you've opted for website leasing doesn't mean you'll get any less service from us or lose out on any of the benefits of working with us. Leasing a website from us means you still get a business website designed for lead generation with SEO at its heart as well as social media links, an email account, contact forms… everything from our regular websites. Website leasing just means you spread the costs. The benefit to us is that we get a regular income, so it's a win-win.
Doesn't leasing a website cost more?
Not really. With website leasing, you end up paying very slightly more when compared to one of our other websites with a care plan. But, it does mean you don't have to find the money upfront, paying instead in monthly payments.
Who owns the website?
Our website leasing plan is over 24 months. As soon as the lease expires and that period is over, the new website is yours. Obviously, we'd like to keep you as a client and so would like you to stay with us using the Care Plan. Annual hosting and domain name renewals are currently £100 per annum.
WILL MY WEBSITE WORK THE SAME AS ONE OF YOUR OTHER ONES?
Yes, when leasing a website you get our same awesome website design service. Your new website will be designed from the ground up with great SEO to generate leads, creating business for you (you've got to pay for it somehow!). Leasing a website just means you can spread the cost with a predictable monthly fee.
WHAT'S YOUR DESIGN TIME TURN AROUND?
Exactly the same as with all of our websites. Our web design process aims to get your website live within weeks rather than months, but, that does depend on you having the content ready to go for your website. That's the basic text (we start with your basic text for the website and then mould and adapt it to produce the best potential returns for your business). We also need images suitable for your new website.
Will i get an email account?
Yep. You can have a 5GB domain name email account (if you want to) such as yourname@yourdomain.co.uk just the same as all of our web design clients.